Une ruse de ninja pour dl du torrent…
Salut les kidz.
Alors comme ça on est au travail, on ne sait pas comment faire pour récupérer le dernier film de Mamie Yvette via torrent ? J'ai LA SOLUTION.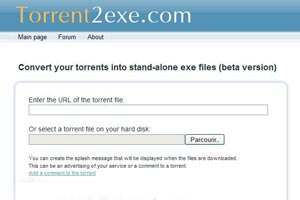 Ce p'tit site permet tout simplement de transformer vos fichiers torrent en fichiers exécutables, sans l'ajout d'un quelconque programme [comme Utorrent le champion du torrent selon mon humble personne].
En gros, comment on fait ? On va sur le site [lol ?]
Enter the URL of the torrent file : rentrez l'adresse de votre fichier torrent [celle-là même dans la barre d'adresse].
OU
Or select a torrent file on your hard disk : Prenez un fichier torrent déjà sur votre disque dur.
Laissez le "normal size".
Vous recevrez un fichier .exe
Double cliquez dessus et c'est fini.
La classe non ? On dit merci qui ?
Komakino, le 24 septembre 2008
Tu as la possibilité de nous suivre via RSS Feed !